When your goods are being stored – naturally you'd want to make sure that they are being kept as safe and secure as possible. At Outta Space, we've got those areas covered completely.
Facility Features
Unit Alarms
Every single one of our storage units are fitted with monitored alarms. This means that you can be sure that the safety of your goods is being monitored every second, of every day. The alarms are all controlled via each customer's gate PIN. So – PIN in once, and you're good to go.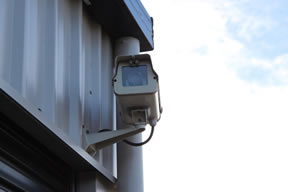 24 Hour Cctv
We have over ten CCTV cameras currently installed at our facility. Every movement in the facility is recorded on these cameras – this way, we can reassure you that the storage unit containing your goods is always being watched.
Gate Entry Records
Our computer logs every movement of our facility's main entry gate. Each time it opens, who opened it, what time it was and when they left again. This record is important, as it gives peace of mind that every movement inside the facility is being recorded and logged on our database.
Secure Pin Access
Each customer receives a unique PIN that's used to gain entry to the facility. This code is randomly selected and given only to the customer it refers to. You can be sure that only customers who hold one of our unique PIN's will be able to gain access to the facility.
Insurance
Insurance is a great way to give added peace of mind to you, while your goods are in storage. We can suggest a broker who provides insurance for goods in storage.
*Insurance comes at an additional cost.
Unit Sizes
With over 250 storage spaces, and room for expansion, we have a range of different size spaces available to suit you. Whether you're looking to store just a few boxes, some household furniture, or a whole house worth of goods – we have more than enough room for you.
Our four unit sizes are:
1.5m x 3m
3m x 3m
6m x 3m
9m x 3m
All of the units are 2.7 metres in height. This is a big advantage when choosing a storage unit, because if anything that you're storing can be stacked upward – you can save a heap of space. Remember to keep the height in mind when choosing a size.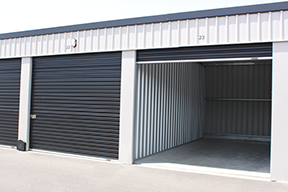 We fumigate each of the units against pests as well. This helps to keep the unit as clear as possible of unwanted insects and bugs. The units are also completely watertight – so there's no need to worry about any roof leaks.
All of the units have a concrete floor and insulated roofs. Customers can access the facility and their unit between 6am and 10pm, 7 days a week. These extended access hours provide more convenience for you to access your goods.
Undercover Storage Bays
Our undercover bays are ideal for ski boats, fishing boats, caravans, trailers and other vehicles. These bays have been specifically designed to fit these vehicles. They are well protected from the weather, but have an open front to enable customers to easily hook up their vehicle to the car and take it out. This storage option provides all the security of Outta Space's facility, without the hassle of a roller door.
The dimensions of these bays are:
10.5m x 3.5m (x3.3m high)
Contact us for more information and to enquire about storage costs.